Il Girasole / New Haven House

Yale School of Architecture
Spring 2018 Core II
Critic Andrew Benner
Team Camille Chabrol, Page Comeaux, Ruchi Dattani,
Michael Glassman, Rachel Lefevre, Katie Lau,
Matthew Liu, Thomas Mahon, Layla Ni
Exhibited Year End Show 2018


Our group analyzed a typical New Haven two-family house and Luigi Moretti's Il Girasole. Each of these buildings separates units across a mirrored dividing line. In the case of the New Haven house, this line is a horizontal, hard boundary. In the case of Il Girasole, this line is vertical and permeable. There is little to no shared space or opportunity for interaction between the two families living in the New Haven house, while in Il Girasole, the central circulation void and the internal courtyards are shared spaces.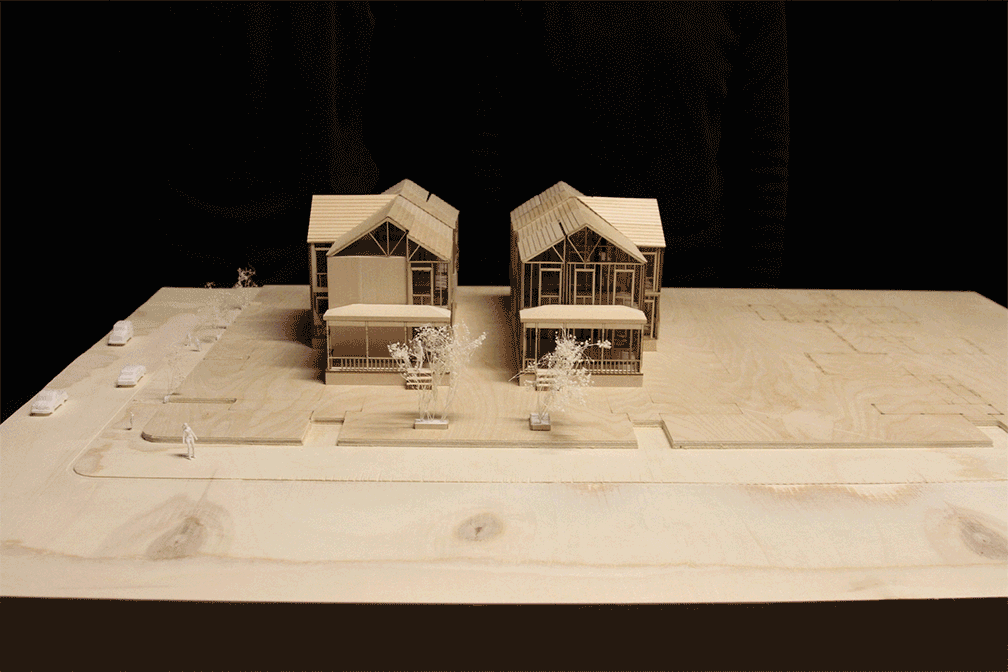 Analytical Model
In this model, we transposed the ambiguity of ownership and boundary that we see in Il Girasole into the New Haven house at the scale of block, house, room, and material. We seek to create the same pattern of visually and physically shared corridors and yards. By turning the New Haven house inside-out we achieve these inter-unit relationships. This turning out elicits instances of rotation and projection that support our overall goal of blurring the boundaries of separation and sidedness. We are freeing the New Haven house from its wrapper and divisions. The unfolded rooms act both individually and collectively—perceived as components of a large unit or as individual units themselves, breaking down the scale of the New Haven lot organization. Throughout the transformed house, framed walls rotate to create bridges, sectional voids, and paths between units.

Analytical Drawing
We aligned particular moments of connection and projection within our metamorphic project, while embracing moments of collision, which we believe contribute to a more ambiguous New Haven house. The original New Haven house offers its occupants functional flexibility, into which we have injected formal and social flexibility.